Welcome to my book review blog! I am so pleased you are here and I hope that you will come back soon! The first book I am going to review is '
The Fairy Godmother'
by Mercedes Lackey. I just finished it about 10 minutes ago.
Title: 'The Fairy Godmother'
Author: Mercedes Lackey
Publisher: Luna
Publication date: reprint edition July 2010
Kindle version: 496pages
Genre: Contemporary Fiction/Fantasy
Source: Bought
Amazon Description:
In the land of the Five Hundred Kingdoms, if you can't carry out your legendary role, life is no fairy tale....
Elena Klovis was supposed to be her kingdom's Cinderella--until fate left her with a completely inappropriate prince! So she set out to make a new life for herself. But breaking with "The Tradition" was no easy matter--until she got a little help from her own fairy godmother. Who promptly offered Elena a most unexpected job....
Now, instead of sleeping in the chimney, she has to deal with arrogant, stuffed-shirt princes who keep trying to rise above their place in the tale. And there's one in particular who needs to be dealt with....
Sometimes a fairy godmother's work is never done....
My Review:
This is the third book that I have read by Mercedes Lackey. I seem to be drawn to fairytales. I believe it is because in most fairytales, the good guy usually wins and the bad one gets what he deserved. Since this is not the usual real life way of things, I like to get lost in a good story where it does turn out this way. This is a spin on the fairytale, Cinderella. It is unlike any Cinderella story that I Have ever read and that makes it more enjoyable. The story takes you on a young girl's journey of trying to find her way in the world. In a world full of magic, this journey
is filled with adventure. The story is good from the beginning, but once you get to the halfway point, it is even better. The second half is one exciting moment after another. I will read the next one in the series soon!
So as for my rating: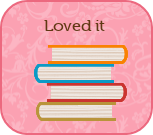 And when she thought about how the flowers from her mother's grave had been crushed, the few things she could call her own left in ruins, her eyes burned and new sobs choked her—
"Ahem."
She squeaked and jumped, and cast startled eyes on the open doorway.
There was a man standing there. He stepped into the light, and she saw that it was Monsieur Rabellet. He carried a bundle under one arm, and his face was suffused with guilt.
The other books in this series in order are:
'One Good Knight'
'Fortunes Fool'
'The Snow Queen'
'The Sleeping Beauty'
'Beauty and the Werewolf'
and the link to Mercedes Lackey's website is
http://www.mercedeslackey.com